Trans woman, transgender rights activist, Ukraine
Anastasiia Yeva
Domani
Anastasiia Yeva Domani. Photo: UN Women/Tara Milutis
I am Generation
Equality
because
Anastasiia Yeva Domani never intended to be a human rights activist. Initially, she just wanted to transition – to change her gender presentation to what she feels is her true sense of identity, that of a woman. But she soon discovered that the legal aspects of transitioning was even more challenging than the medical process.
"When I tried to change my [gender] on official documents, I experienced such a huge injustice towards me personally and towards all transgender people in general," says Domani.
"I felt, as a Ukrainian citizen, that I should take the steps necessary to start helping other people with everything that goes into the process of transitioning, and to fight for the rights of all trans women in the country."
"We are fighting for our right to live in peace and security."
Helping
transgender
people feel
supported
Anastasiia has felt like a woman ever since she was young, but kept her feelings hidden. She yearned to live an authentic life, but stereotypes about what it meant to be a man or a woman were strongly entrenched in society. Coming out was even more difficult for her because she had worked as a sport journalist before transitioning, a sector known for its traditional gender norms.
"I was afraid to see the reaction of my colleagues and sport fans who followed me," Anastasiia admits. "But I decided to go through with it and be brave, no matter how difficult it was going to be, in order to attract public attention to the problems transgender people face."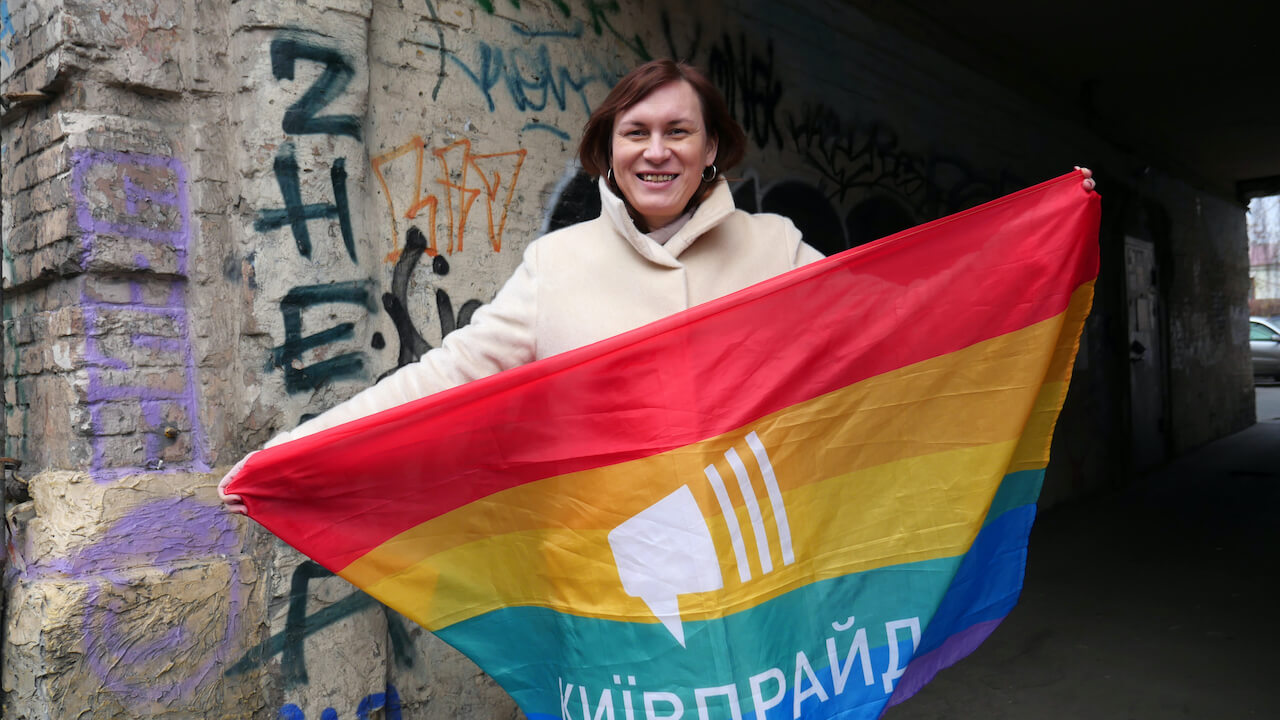 Trans women in Ukraine face a range of discrimination, including widespread stereotypes and violence, and Anastasiia is unwilling to witness this in silence.
"[Victims] often do not report the violence [they experience] out of fear of having to relive the trauma again, because of the attitude of law enforcement officials. There are no laws in Ukraine providing protection against hate crimes, homophobia and transphobia."
With her strong mobilization and media skills, and an indefatigable energy, Anastasiia has brought transgender rights in Ukraine to the forefront, helping countless transgender women in the process.
"My goal is for all transgender people in Ukraine to have the same human rights as heterosexual people. We are fighting for our right to live in peace and security."
To all trans women in Ukraine and beyond, she says: "Be strong, don't be afraid, and please reach out and contact me. I will be happy to help each and every one of you!"
Photo credits (header image):
Anastasiia Yeva Domani . Photo: UN Women/Tara Milutis
Three actions you
can take to be
part of Generation
Equality
and support
LGBTIQ+ rights:
01
Stand up for the rights of lesbian, gay, bisexual, transgender and queer people
02
Advocate for laws to provide protection against hate crimes, homophobia and transphobia
03
Join the conversation using #GenerationEquality