Rugby player, community facilitator, Brazil
Hingride Marcelle
Leite de Jesus
Hingride Marcelle Leite de Jesus. Photo: UN Women/Camille Miranda
I am Generation
Equality
because
"I remember when my father used to live with us, my mother wasn't allowed to take up certain kinds of jobs that he considered masculine. When I started playing rugby, he said I shouldn't do it, because it was something made for men," says Hingride. Against all odds, she persisted. After her father abandoned them, Hingride grew up in a family led by women, who were powerful female role models at home. "Through rugby, I learned to make choices, to understand what I should focus on and what I had to let go, to respect my limits and to express myself."
"Sport opens up spaces for women and girls."
The power
of sport
and safe
spaces
For Hingride, sport was a tool for self-empowerment and empowerment of other girls around her. She learned to be confident and fearless in pursuing her dreams, despite the discrimination she faced.
"I am black, poor and live in the periphery. That doesn't mean I can't achieve my goals and realize my dreams!"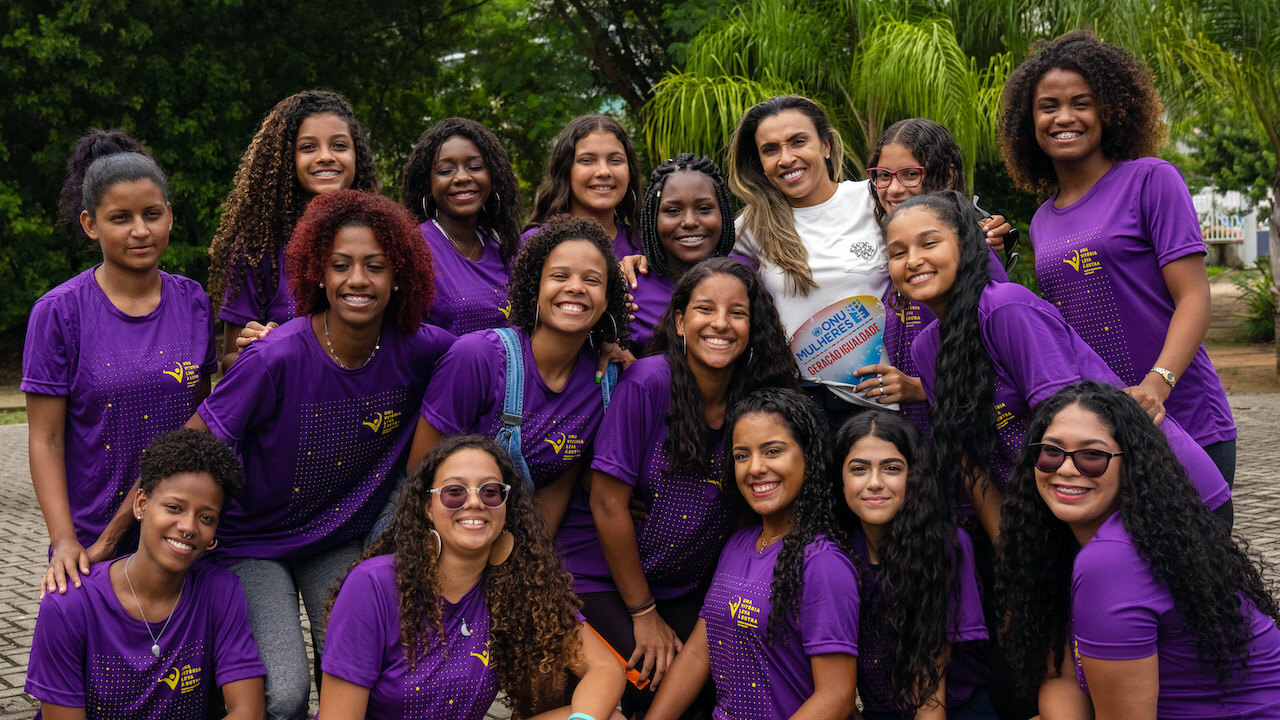 As a participant in the One Win Leads to Another programme, a partnership between UN Women and the International Olympic Committee, Hingride and other girls and young women athletes in Brazil took part in weekly sport practice and life skills sessions.
"Thanks to that safe space, I could share things I never had the courage to tell anyone before. I realized how important it was to go to their weekly sessions and talk with other girls about our bodies, about gender, race, sexuality, and about violence," Hingride says.
"For far too long, we were kept away from sporting opportunities, and there is an important role that the media can play, especially sport media, in showing that any sport is a woman's place."
Now, Hingride has completed the training to become a facilitator and she is helping the next generation of girls in the community.
"This will be more than a source of income for myself and my two-year-old boy. It is an opportunity for me to become an example for other girls in my community. They will look at me and think: if she made it, I can make it too."
Photo credits (header image):
Hingride Marcelle Leite de Jesus. Photo: UN Women/Camille Miranda
Three actions you
can take to be
part of Generation
Equality:
01
Create safe spaces for women and girls and challenge gender stereotypes
02
Support sport and gender equality programmes in your community
03
Join the conversation using #GenerationEquality