Climate action warrior, Australia
Natalie
Isaacs
Natalie Isaacs is the founder and CEO of 1 Million Women, a global movement of women and girls who take practical action to fight climate change by changing the way they live. Photo: UN Women/Ryan Brown
I am Generation
Equality
because
"I had this epiphany about climate change in my mid-40s. I used to think that solving the climate crisis had nothing to do with me and that change would happen from governments," says Natalie.
"The thing that changed my life forever – is that I got my own household electricity consumption down by 20 per cent, by simply being vigilant. When I saw that I had saved a heap of money and pollution at the same time, that was the very moment that I took ownership of the problem."
"I thought, imagine if millions of households around Australia and the world did what I just did – that must make a difference!"
"Act in your life, change the way you live and consume."
Women must
be the
changemakers
When Natalie first started researching climate action, she found many organizations that spoke to everyone, but couldn't find one that spoke to her as a woman about changing the way she lived in Australia.
"On one hand, women and children from countries generating the least amount of pollution were most vulnerable, and on the other hand, women are powerful consumers. It is estimated that by 2028, women will be responsible for two-third of consumer spending," she says.
"Depending on where you live, women make 75-85 per cent of all household decisions that affect the carbon footprint and 17 per cent of emissions come from household consumption."
Natalie started 1 Million Women, a global movement of women and girls who take practical action to fight climate change by changing the way they live.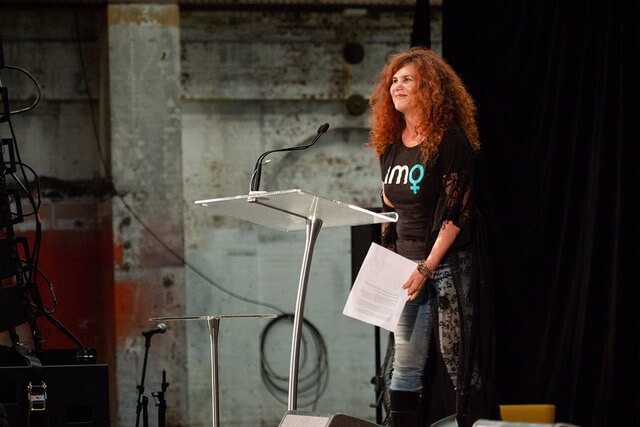 "While climate action needs action from everyone at every level, we need to empower and mobilize women to lead through their own actions," she says.
"When it comes to climate action, you cannot just fight for climate action, you have to live it. It's not enough to march on the streets or donate to [an environmental organization] or write letters to politicians. You have to act in your own life. When you act in your life, change the way you live and consume, you have a powerful and louder voice to put pressure on others to act."
Photo credits (header image):
Natalie Isaacs is the founder and CEO of 1 Million Women, a global movement of women and girls who take practical action to fight climate change by changing the way they live. Photo: UN Women/Ryan Brown
Three actions you
can take to be
part of Generation
Equality and
climate action:
01
Use your vote and use your voice. If you are of voting age, vote for climate action
02
Reduce over consumption in your own life and love the earth as we love our friends and family
03
Join the conversation using #GenerationEquality