HeForShe youth activist, Jordan
Saif
Dabbas
Saif Dabbas, 19, starts conversations among peers and within his community to change gender norms. Photo: UN Women/Lauren Rooney.
I am Generation
Equality
because
"It all started with my family. My older sister was a judo player on the Jordanian national team, and it helped me understand that women can pursue their passions and end stigmas," says Saif. "My parents were supportive; they wanted her to succeed."
Saif has been a feminist advocate since age 14 and started volunteering for HeForShe in 2016. "It's not common to talk about gender equality in the Middle East, so it wasn't easy to be a [self-proclaimed] feminist in Jordan. I faced judgement for defending [women's] rights," he says.
"One of my responsibilities as a HeForShe team member is to educate my peers on gender equality."
Saif takes his role seriously, because he knows that he and his peers are leaders who will shape our world today, and in the future.
Financial
independence
is key to
women's
empowerment
Although HeForShe has been successful in getting more than 20,000 people to commit to gender equality in Jordan, Saif remains concerned about women's financial independence.
"Women get paid less, and their husbands have the power to take money from their salaries each month. This inhibits women's empowerment, because they are not free to do what they want with their money, such as invest in a business or travel," he says.
"Community productivity is reduced by women marrying at a young age, not receiving their university education, and not entering the workforce."
"As a gender equality advocate, I aim to change mindsets."
Conversations
to change
norms and
attitudes
"HeForShe does this through events and activities that bring people together, such as debates, concerts, plays, and freeze mobs," he says. "We [use] art because art is everybody's language. Everybody can understand art, regardless of where they are from."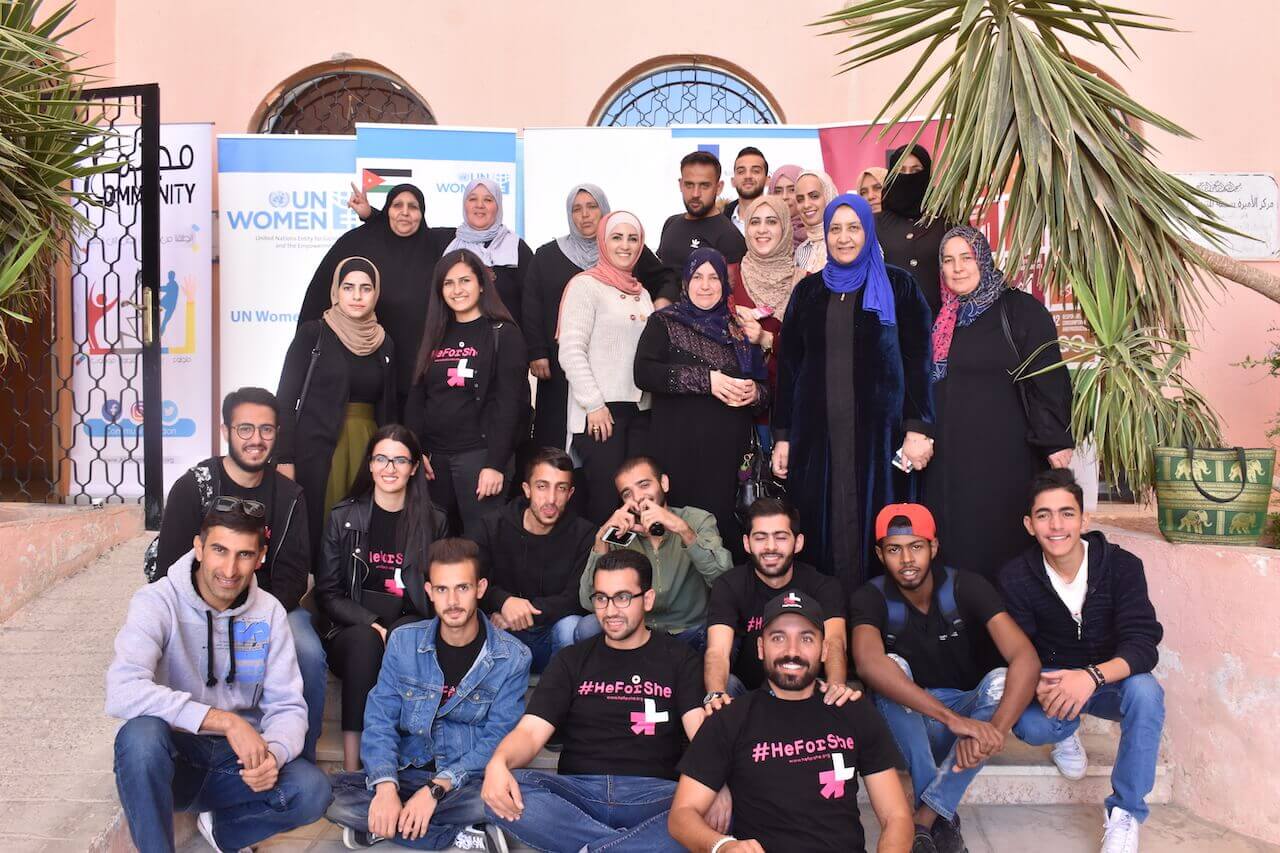 Saif also believes that gender equality must be taught from a young age to change cultural norms. "Curriculum about gender-equal rights and responsibilities should be taught in schools, so that young people are more responsible and aware as they grow up."
"It's difficult to get people to understand another person's experience and accept it, especially in communities that are deeply rooted in their traditions. To change people's mindsets about gender equality, we listen closely, identify the gaps in their perspectives, and then engage them [in conversations]," he explains about his role as a HeForShe activist.
He encourages everyone to get involved. "If each one of us reached just five people about gender equality, we could make it a national conversation in Jordan."
Photo credits (header image):
Saif Dabbas, 19, starts conversations among peers and within his community to change gender norms. Photo: UN Women/Lauren Rooney.
Three actions you
can take to be
part of Generation
Equality:
01
Understand gender equality and speak up for other people's rights
02
Engage in meaningful conversations on gender equality, listen with empathy and be open to new perspectives
03
Join the conversation using #GenerationEquality