UN Women
Climate change is a women's issue
Video: Sky News/Film Image Partner
We owe it to ourselves and to the next generation to conserve the environment so that we can bequeath our children a sustainable world that benefits all.

Wangari Maathai

Environmental activist
Video: Sky News/Film Image Partner
The planet is
under threat
From human-caused greenhouse gas emissions to the overexploitation of the earth's natural resources, unsustainable production and consumption patterns pose a risk to all of humanity.
Photo: Yuyao city, Zhejiang province, 2013. Credit: Xinhua / eyevine/Redux
The world's poorest
are often hardest hit
A changing climate affects everyone – but it's the world's poorest and those in vulnerable situations, especially women and girls, who bear the brunt of environmental, economic and social shocks.
Photo: Bangladesh, 2011. Credit: Kadir van Lohuizen/NOOR/Redux
Climate-induced disasters
exacerbate entrenched
gender inequalities
Often, women and girls are the last to eat or be rescued; face greater health and safety risks as water and sanitation systems become compromised; and take on increased domestic and care work as resources disappear.
Photo: Haiti, 2016. Credit: UN/MINUSTAH/Logan Abassi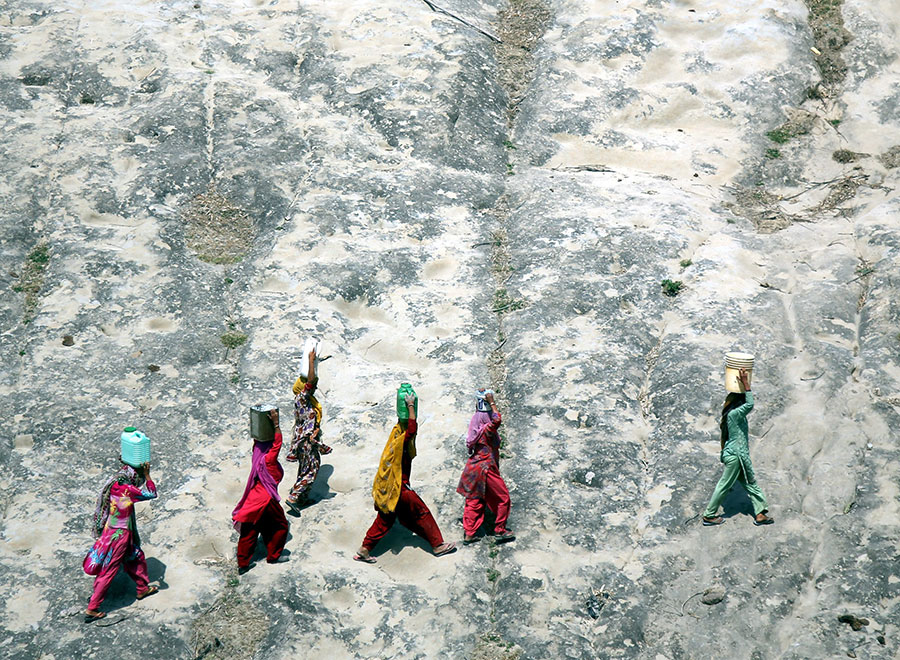 In many developing countries, women and girls often carry the burden of water and fuel collection and food provision.
Let's look closer
at an example
Photo: Jammu, Kashmir, India, 2016. Credit: Jaipal Singh/EPA
Combined hours spent fetching water every day in 25 sub-Saharan African countries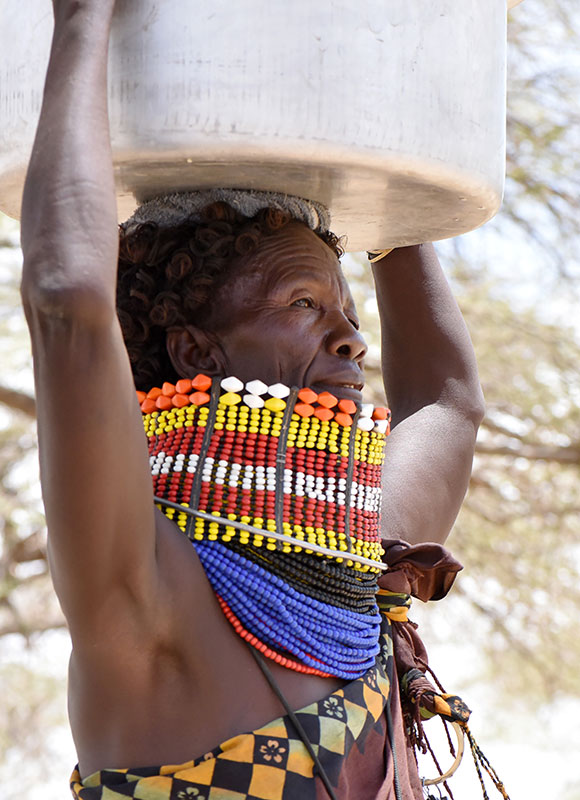 This is my routine three times a day…I have to fetch water for our use and for the goats and sheep too, as they are too weak to walk
Paulina Epung'u
Mother of seven in Kenya's drought-stricken District Turkana
Photo: Kenya, 2017. Credit: UN Women/Kennedy Okoth
Climate change increases
the risk of droughts
Droughts can destroy crops, soils, flora and fauna, intensify food scarcity, and worsen the situation of women and girls, particularly in already fragile places.
Photo: Llapallapani, Bolivia, 2016. Credit: Josh Haner/The New York Times/Redux
The various consequences of drought
More
Violence against women
Maternal deaths
Child Marriage
Infections
Hunger
Malnutrition
Illegal land grabbing
Poverty
Less
Sanitation & hygiene
Living conditions
Food security
Fuel supplies
School attendance
We have no other spare or replacement planet. We have only this one, and we have to take action.

Berta Cáceres

Honduran indigenous and environmental rights activist
The time to act is now
As early adopters of new agricultural techniques, first responders in crises, entrepreneurs of green energy, or decision-makers at home, women are agents of change who must equally be part of the solution towards a sustainable future.
Here's how UN Women and its
partners are paving the way
Photo: Mali, 2013. Credit: World Bank/Dominic Chavez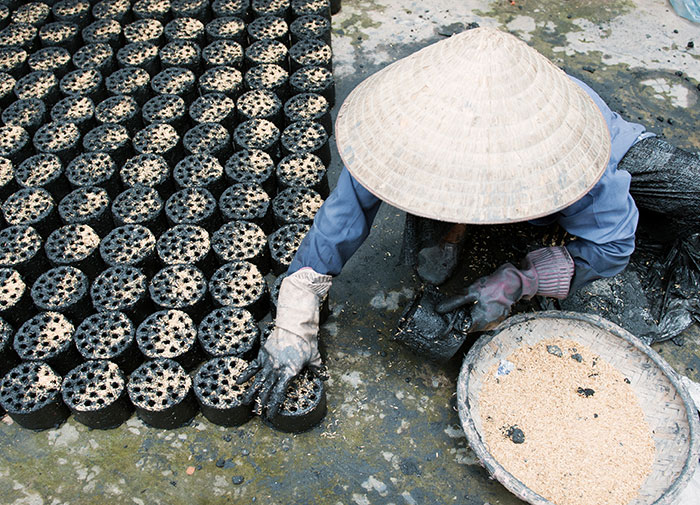 Sustainable solutions
The situation
Today, greenhouse gas-emitting fossil fuels remain primary energy sources. Women disproportionately bear the burden of energy poverty.
People lacking access to electricity.

People still cooking and heating their homes with solid fuels.

Deaths linked to household air pollution
generated by solid fuels in 2012.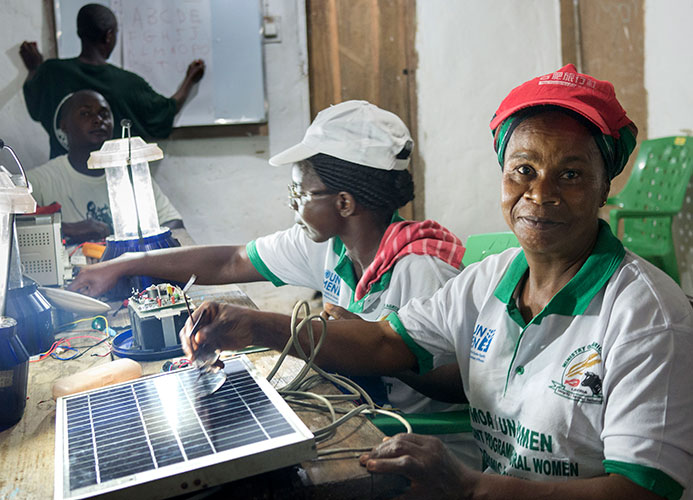 Sustainable solutions
The response
UN Women and UN Environment have joined forces under a global programme to promote women's entrepreneurship for sustainable energy. The programme will initially roll out in Senegal, Morocco, Myanmar, India, Indonesia and Bolivia.
Women in India estimated to gain access
to clean, renewable energy as part of
current programme efforts
Photo: Liberia, 2015. Credit: Thomas Dworzak/Magnum Photos for UN Women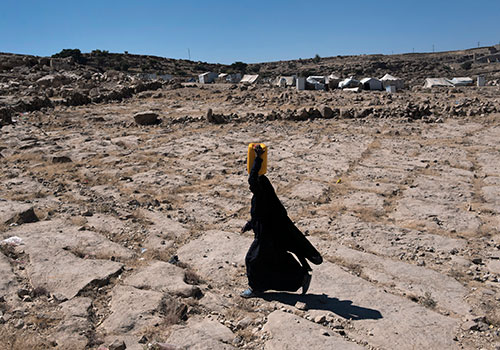 Gender-responsive action
The situation
Parts of Africa and Western Asia are confronting a humanitarian crisis brought on by drought.
Kenya
People lacking food security out of the 5.6 million affected by drought.

Pregnant and lactating women requiring treatment for malnutrition.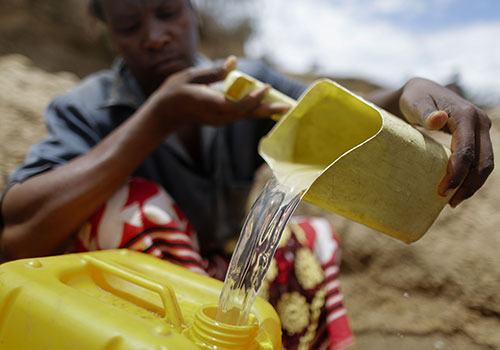 Gender-responsive action
The response
UN agencies have mobilized to provide shelter, water, food, sanitation, emergency relief and protection services. In Kenya, for instance, UN Women is working with the government's drought agency to address women's unique needs.
2017 flash appeal by 46 humanitarian agencies to reach 1.9 million people in need of humanitarian assistance as a result of drought in Kenya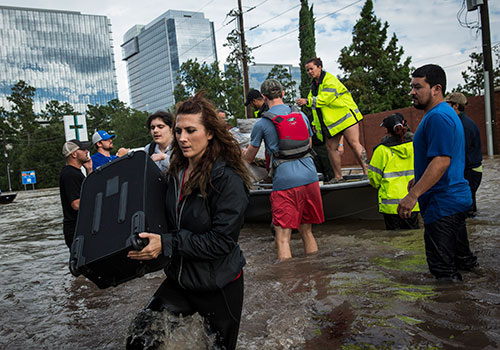 Climate resilience
The situation
Global warming, rising temperatures and sea levels, and extreme weather events are threatening island nations and coastal communities, putting the livelihoods of millions at risk.
Additional climate-related deaths per year
expected between 2030 and 2050 from
malnutrition, malaria, diarrhea and heat stress.
Data: Climate change and health, World Health Organization. Photo: Texas, USA, 2017. Credit: Andrew Burton/The New York Times/Redux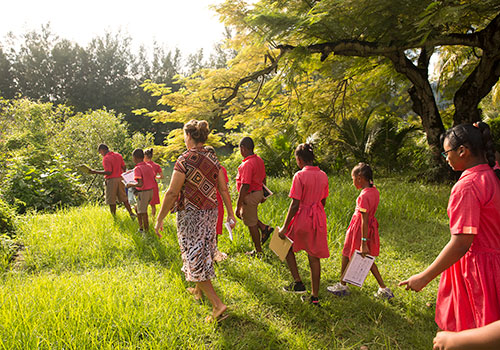 Climate resilience
The response
In Seychelles, women-led Wildlife Clubs, supported by a UNDP GEF Small Grants Programme, are teaching future generations about mangrove conservation and ocean sustainability. In Bangladesh, UN Women has strengthened disaster response systems across the country's 10 most climate-vulnerable districts.
More than
Bangladeshi women trained under UN Women-
supported efforts to respond to disasters.
Credit: UN Women/Ryan Brown
Together, we can achieve a sustainable future for all.
Step it up for gender equality.